"I thought my roof was black," a client said to me as we stood in the driveway admiring her now-visible original roofing.
Her roof wasn't black.
It was covered in dirt, dust, and algae, which made it appear black.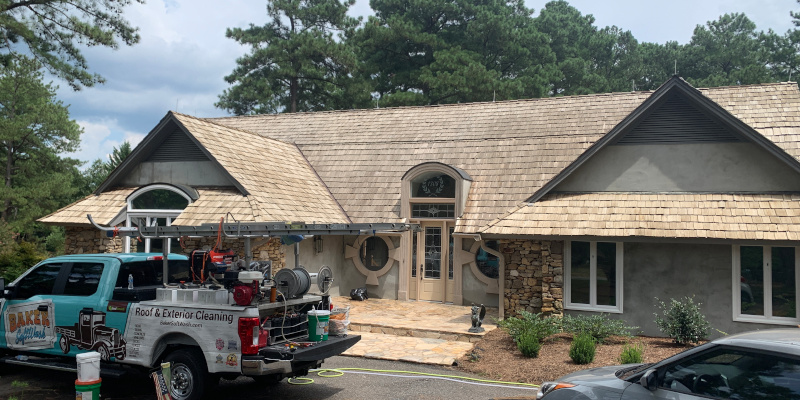 Unfortunately, this is a common occurrence for many homeowners in the Mooresville, NC, and Lake Norman area. Asphalt shingle roof coverings are susceptible to 'streaks' that look lighter here and darker there. Many people misdiagnose the "lighter" areas of the roof as streaks or stains when the truth is the opposite. The darker areas are pockets of dirt, dust, and debris that build up and, eventually, grow mold, algae, and fungi, changing the roof's color.
Every region has its own set of roofing challenges. Homeowners in the north deal with sleet, hail, and snow, while some areas on the coast endure high winds and extended periods of rain. Here in North Carolina, our humid and sometimes shady conditions provide the perfect environment for organic growth and build-up, which can seriously impact your roof, break down shingles, and lead to costly repairs.
So, the question is, how do you know that it's time to book a cleaning from Baker SoftWash?  Watch out for these three signs that it's time for your next soft-wash appointment.
Discoloration. If your roof is more than one color, has streaks, or patches of unsightly 'stains', then it's time to book a soft-wash appointment! The discoloration is caused by dust, dirt, and debris that collect on your home's surfaces, fostering the sustained growth of mold, algae, and fungi. One soft-wash appointment can remove dirt, debris, and other contaminants from your home's surface entirely instead of simply removing the outer layer.
Moss or Mildew Buildup. Technically, the dark streaks lining your roof are a type of blue-green algae that thrives in humid, shady environments. This is a common occurrence for homeowners in the Mooresville area, especially those with heavily shaded properties where growth conditions are prime! If left untreated, these black 'stains' will grow and eventually turn into moss.
Your Gutters Are Full. Overflowing gutters are a sign that your roof has been exposed to falling leaves, dirt, dust, and debris. Remember, gutter systems redirect water away from your home, saving you from costly repairs. Our team at Baker SoftWash can take care of your gutters and your roof, saving you time and money.
Our 5 Year Spot-Free Warranty
Best of all, our roof cleaning services are backed by a national industry-leading, 5-year, spot-free warranty. If you are wondering if your home or commercial property in the Mooresville, North Carolina area can be refreshed and revitalized, you need to give our team here at Baker SoftWash a call today! We are proud of our work and the business that we have built since it works to improve your property as well as the environment by using 1/3 of the water and only water-based, biodegradable cleaners.