Make your whole pool look better by having us clean the deck.
You love lounging poolside all summer long, enjoying the sun's rays and working on your tan. Although your pool is one of your favorite parts about your outdoor living space, you don't love the way your pool deck starts to look over time. Although you try to sweep it down, rinse dirt off with the hose, and have a power washing company come in every few months to clean it, you feel like there's no way to make your pool deck look as clean as you want it.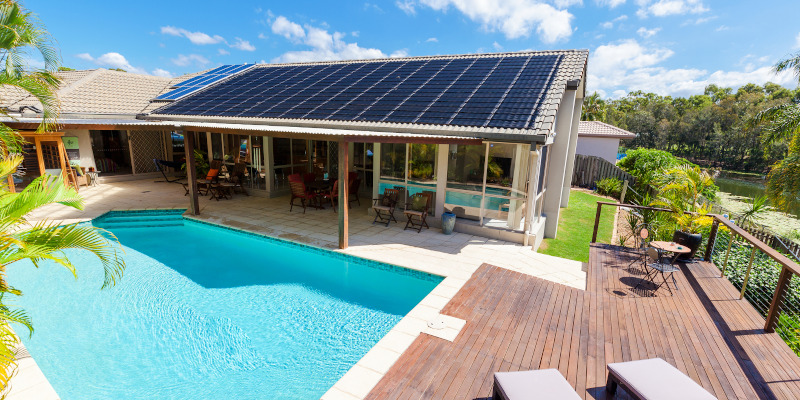 At Baker SoftWash, we're here to show you there's a better way to complete pool deck cleaning, and it doesn't involve blasting dirt, grime, and algae away with a standard power washing system. Instead, we use soft washing to complete pool deck cleaning. This involves using a low-pressure rinse to remove residue without damaging concrete paint or sealant, or cracking or chipping stone tiles and pavers that surround your pool.
We get rid of residue at its source, instead of just blasting away dirt and grime at the surface. This means your pool deck will look better than it ever has, and it'll look better for longer, enhancing the way your pool area looks overall.
We can't wait to introduce you to our pool deck cleaning services in Mooresville, North Carolina and show you how they can transform the way your pool area looks. Contact us today to find out more about our processes and why we stand apart from your typical power washing company.
FAQs About Pool Deck Cleaning
Our team at Baker SoftWash wants to help you take the best possible care of your pool, and we offer pool deck cleaning services to help you do that. We have assembled some of our most frequently asked questions on the topic, and their answers, below for you to check out.
Why do I need pool deck cleaning services?
Even if you don't mind your pool deck looking a little dingy, you should still have your pool deck cleaned regularly. Pool decks often attract mold, algae, and similar microorganisms that grow over the concrete and make it extremely slippery, which increases the risk of falling accidents around the pool. To help everyone enjoy your pool safely, you should keep the deck clean.
How often should I have my pool deck cleaned?
In most cases, getting professional pool deck cleaning services once a year is enough to keep the deck safe to walk on and ensure that mold, algae, etc. don't damage the concrete. If your pool deck starts to look dirty or grow visible mold in between sessions, however, we encourage you to give us a call.
Why should I use your pool deck cleaning services in particular?
Our pool deck cleaning services are designed to provide the most thorough clean and the most long-lasting results. We used specialized cleaning solutions that will kill all mold, algae, and the like, keeping your deck cleaner. In addition, we recommend our services over standard pressure washing because the latter method has been known to damage the target surface, even concrete.
---
At Baker SoftWash, we offer pool deck cleaning services for customers in Mooresville, Cornelius, Davidson, Huntersville, Charlotte, Troutman, Statesville, Denver, Kannapolis, China Grove, Landis, Concord, and Iredell County, North Carolina.