Our soft wash pool deck cleaning process is safe and effective.
When you're responsible for a swimming pool at your home or business, you have a number of important maintenance tasks on your to-do list. You have to keep the water clean and properly treated to ensure that it's safe for use. It's also important to maintain the equipment. Another aspect of swimming pool maintenance is keeping the pool deck clean, which can be a challenging task. The surface of the pool deck tends to be wet a lot of the time which can mean algae and mold start to build up. These two contaminants are difficult to remove on your own. At Baker SoftWash, we'll take care of your pool deck with our professional pool deck cleaning services for customers in the Huntersville, North Carolina area.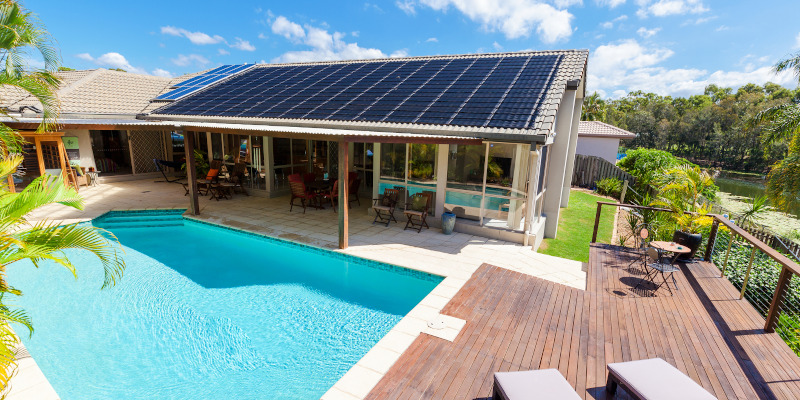 We use a specialized cleaning method that is superior to pressure washing for a number of reasons. It uses less pressure than traditional power washing but can remove all types of contaminants from various surfaces. The solutions used in our soft wash cleaning method are water-based and biodegradable, so they don't leave behind any contaminants. Your pool deck will look great when we finish the job, allowing you to make the most of your swimming pool.
Many pool decks are made of concrete, which can get damaged during the cleaning process. If a pressure washing system is set too high, it can chip away at the concrete or cause it to crack. Our soft wash pool deck cleaning process is safe and effective. You don't have to worry about any damage to the deck's surface, but you'll be happy to know that it removes contaminants that cause staining and dirt buildup for a longer-lasting result.
---
At Baker SoftWash, we offer pool deck cleaning services for customers in Mooresville, Cornelius, Davidson, Huntersville, Charlotte, Troutman, Statesville, Denver, Kannapolis, China Grove, Landis, Concord, and Iredell County, North Carolina.