Clean up your concrete with our help.
Concrete is a popular material for driveways, walkways, sidewalks, and patios. This building material is durable, relatively easy to install, and aesthetically pleasing. The one problem with concrete is that, since it's porous, continual exposure to Mother Nature, vehicles, people walking, dirt, dust, and bird droppings makes it susceptible to staining.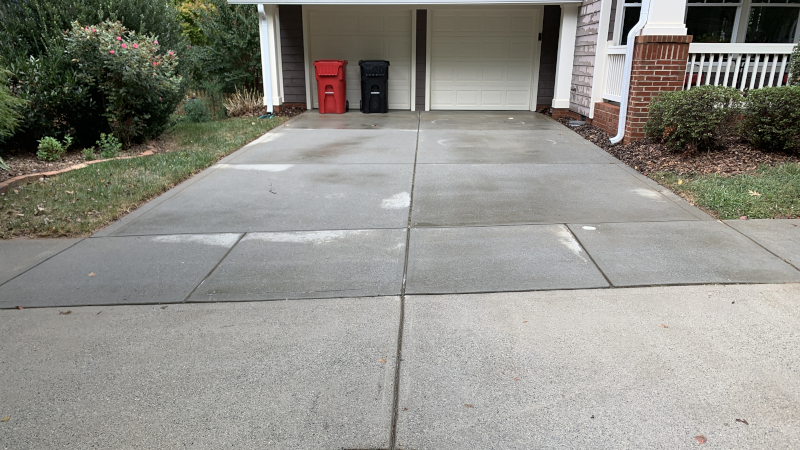 When dirt, dust, and grime accumulate on your concrete surfaces, they foster an environment where mold, algae, and contaminants thrive. This makes it harder to get your concrete truly clean, and power washing barely touches the surface.
Instead of believing that your concrete will only be fully clean again if you tear it out and replace it, try our concrete cleaning services at Baker SoftWash. We're a popular source for concrete cleaning services throughout the Cornelius, North Carolina area because our solutions get results. We are also reliable, knowledgeable, and committed to great customer service.
With our concrete cleaning services, we use soft washing instead of power washing. This process eliminates algae, mold, and other contaminants responsible for making your concrete look stained and dirty at their source, instead of just removing the top layer, so you get better, longer-lasting results.
Dirty concrete doesn't have to be a normal part of your home's exterior surfaces. If you're ready to give soft washing a try and watch as we get remarkable results for your driveway, patio, or walkway, get in touch with us today.
---
At Baker SoftWash, we offer concrete cleaning services for customers in Mooresville, Cornelius, Davidson, Huntersville, Charlotte, Troutman, Statesville, Denver, Kannapolis, China Grove, Landis, Concord, and Iredell County, North Carolina.