We use a Pure Water cleaning system when performing professional gutter cleaning service.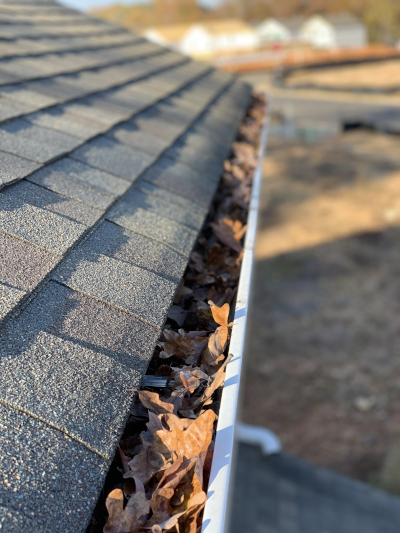 The gutters on your home's exterior play an important role in draining water and preventing moisture damage on the roof and throughout the property. However, these channels can get dirty and clogged with dirt, tree leaves and needles, and other debris from your roof. When this happens, the water can't move through them freely, which can result in moisture drainage on other parts of the property or damage to the gutter system. Cleaning your own gutters is a challenging task, and it's something that most property owners would rather not tackle on their own. At Baker SoftWash, we can take care of this service at your Huntersville, North Carolina home. Gutter cleaning is one of our areas of expertise.
We use a Pure Water cleaning system when performing professional gutter cleaning service. This system is incredibly effective at removing debris from the insides of your gutters, ensuring that water can flow freely and gets to the designated drainage locations on your property. Pure Water cleaning systems use filtered water that is free of contaminants and minerals, so it can clear out any contaminants without causing buildup or other issues.
After completing a gutter cleaning service, we can install gutter guards to prevent leaves and other debris from getting trapped in the channels in the future. Our technicians can also get you set up on a regular gutter cleaning schedule to reduce the risk of clogs and keep your gutters working properly. If you have any questions about the cleaning methods we use or would like to schedule a cleaning service, don't hesitate to contact us.
---
At Baker SoftWash, we offer gutter cleaning services for customers in Mooresville, Cornelius, Davidson, Huntersville, Charlotte, Troutman, Statesville, Denver, Kannapolis, China Grove, Landis, Concord, and Iredell County, North Carolina.