Clear the gunk out of your gutters with our proven processes.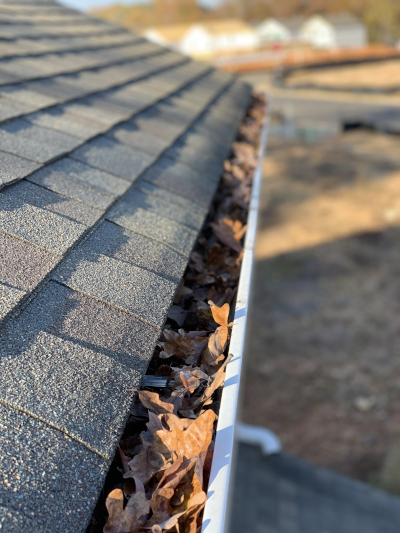 When was the last time you cleaned your gutters? Chances are, this is one of your least favorite home maintenance tasks, even though it's one of the most important. Cleaning out your gutters eliminates debris, trash, twigs, branches, leaves, and other materials that clog your gutters and stop them from properly moving water off your roof and away from your foundation when it rains.
The problem with power washing your gutters is that the extreme force can damage them. So, you're stuck with a trash bag and gloved hands to get rid of debris … that us, unless you hire us at Baker SoftWash to do the job! Make the switch to hiring our professional, highly trained team to take care of your gutter cleaning for your Mooresville, North Carolina property. We use soft washing instead of power washing to perform gutter cleaning to get exceptional results for every home.
Soft washing is superior to traditional power washing because it doesn't damage your home's exterior. This means you don't have to worry about the process harming your gutters and surrounding siding, bricks, windows, and plants. Plus, you can't beat our gutter cleaning results. We'll completely clear out your gutters, and they'll look better than they ever have before! And the final results will last for a long time, meaning you don't have to worry about gutter cleaning for a while.
Choose our team to clean out your gutters for better results. Contact us today to set up your gutter cleaning appointment!
---
At Baker SoftWash, we offer gutter cleaning services for customers in Mooresville, Cornelius, Davidson, Huntersville, Charlotte, Troutman, Statesville, Denver, Kannapolis, China Grove, Landis, Concord, and Iredell County, North Carolina.