If you want to make your home look as festive as possible with a minimum of effort, we encourage you to enlist our team to provide Christmas light installation services.
As the holiday season approaches, more and more homeowners are starting to make plans for their annual decorations, and for many, these plans include Christmas lights. If you want to make your home look festive for the season but don't want to deal with putting up your lights yourself, you can turn to our team at Baker SoftWash. We offer expert Christmas light installation services that will get your home ready for the season without you having to climb any ladders.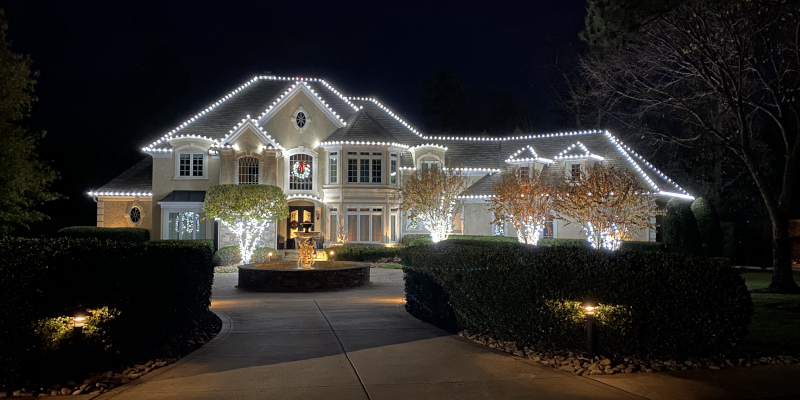 Because our services involve washing roofs, our team has extensive experience working high off the ground and using ladders safely. This makes us excellent at putting up Christmas lights, as doing so involves all the same skills that we already have in abundance. When you turn to us for Christmas light installation services, we will custom fit your lights to your structure and landscape in order to create the best results. In addition, we are also happy to further embellish your home with more festive decorations such as wreaths, ornaments, and more. We can also include additional lighting features in your décor to create an even more Christmassy atmosphere. You won't even have to worry about taking these decorations down come January, as our team will arrange a time to come take care of that for you as well.
Their organization makes everything convenient.
"I started using Baker Softwash for our Christmas lights last year. They came and measured and installed without issue, and then removed them after the holiday in a timely manner. This year, they reached out to schedule the install without me needing to contact them. The team came and installed in a very short time on my requested day. As someone who is busy with all the other everyday concerns of life, easy is always appreciated, and their organization makes everything convenient, which is much appreciated!"
★★★★★ Manda R.
Relax and enjoy the Holidays while we take care of the hard work.
Our team is proud to serve the Mooresville, North Carolina community, and we want to help you decorate your home for the holiday season. If you are interested in our Christmas light installation services, we encourage you to give us a call.
FAQs About Our Christmas Light Installation Services
Getting ready for the holidays takes a lot of work, so if you want to take one thing off your to-do list this year, hire us to put up your Christmas lights! We've answered some questions about our Christmas light installation services below, so keep reading to learn more.
Can you help me design a Christmas light plan?
Yes! We can help you put together the perfect holiday light plan that combines a variety of colors, light types, and arrangements that highlight your home's features and bring holiday cheer to everyone who passes by on the street.
What do your Christmas light installation services include?
First, we'll help you create a Christmas light design. Then, we'll come and put up all your lights for you. When the holiday season is over, we'll come back, take down your lights, and store them until next year.
Will you store my Christmas lights for me?
Yes! We can take down your Christmas lights and store them for you until the holiday season arrives again. Don't worry about extra holiday lights taking up room in your garage or attic any longer!
Why should I hire you for Christmas light installation?
We'll make sure your home looks as festive as possible, and you won't have to climb up on a ladder or spend hours untangling strands of lights to make it happen. We'll provide great service and great work, so you'll want to hire us to put your Christmas lights year after year.
How do I get started?
If you want us to put up your Christmas lights this year, contact us directly and tell us what you have in mind. We're excited to get started!
---
At Baker SoftWash, we offer Christmas light installation services for customers in Mooresville, Cornelius, Davidson, Huntersville, Charlotte, Troutman, Statesville, Denver, Kannapolis, China Grove, Landis, Concord, and Iredell County, North Carolina.

Why Choose Baker SoftWash?
At Baker SoftWash, we are unlike traditional power washing companies. Why? We use state-of-the-art cleaning systems and solutions. Compared with conventional power washing, soft washing provides incredible results because it eliminates dirt, debris, fungi, mold, and other contaminants accumulating on your property's exterior instead of just rinsing off the surface. We also offer Christmas light installation services.
See what our customers have to say about our Christmas light installation and other services.
We'll make your home sparkle with holiday cheer!
We make Christmas light installation easy!