Bring your building out of the dark.
Illuminate your city streets, revitalize commercial areas, reinforce your brand identity, and maintain visibility with commercial LED lighting. Because we're committed to only delivering the best, we are a proud Certified Inception Lighting Contractor, delivering these exceptional lighting solutions to municipalities and businesses throughout our service area.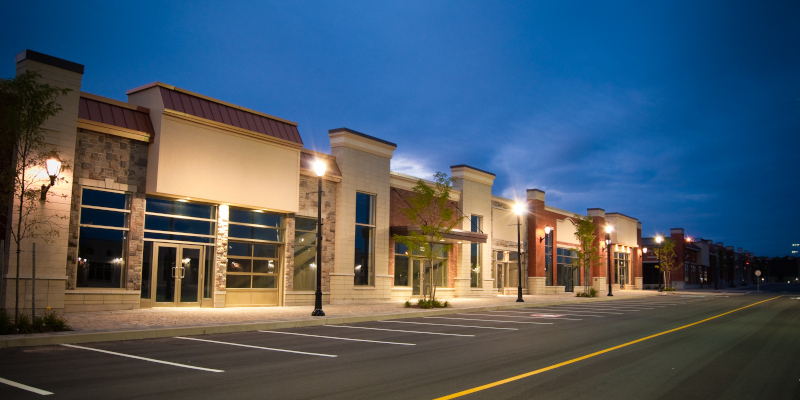 Inception Lighting is a type of architectural accent lighting that looks like decorative molding during the day, blending in seamlessly to the façade of the building. The unique design of this commercial LED lighting covers the bulbs, so they won't detract from your building's aesthetics. For municipalities, this lighting can make your city more inviting, build pride among residents, and distinguish different areas of town. For businesses, this commercial LED lighting can increase the visibility of your property and help you communicate promotions and specials after dark.
The base and lid of this commercial LED lighting system are designed to withstand snow, wind, sun, and rain for decades. After consistent use for 10 years, the lights will only start to fade to 80% of their original brightness. Choose from four basic colors for the track lid – white, tan, gray, and chocolate brown – and enjoy a 10-year product manufacturer warranty that covers all electronic components.
Brighten your buildings in the Mooresville, North Carolina area by illuminating their exteriors with the incredible technology and customization options of commercial LED lighting from Inception Lighting. If you'd like to learn more about lighting the outdoor areas of your municipality or the exterior of your building, or if you want to get a quote for new LED lighting, reach out to us at Baker SoftWash today.
---
At Baker SoftWash, we offer commercial LED lighting services for customers in Mooresville, Cornelius, Davidson, Huntersville, Charlotte, Troutman, Statesville, Denver, Kannapolis, China Grove, Landis, Concord, and Iredell County, North Carolina.
Similar Services We Offer: