There's something truly magical about the arrival of spring, don't you think? The days are getting longer, plants are blooming, and a renewed sense of energy is in the air.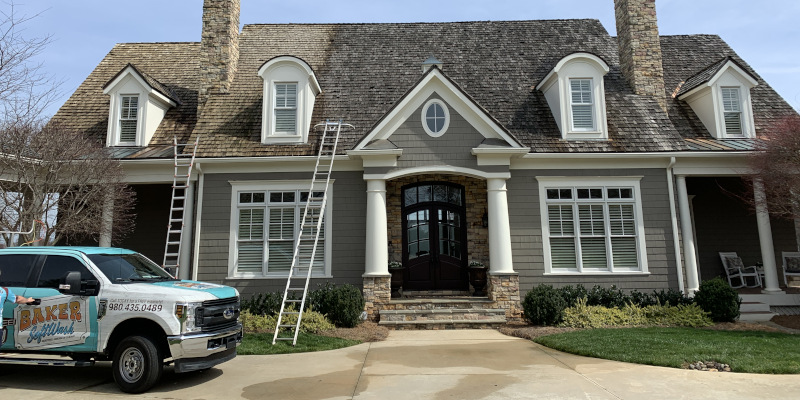 Because of this, spring happens to be the ideal time for soft washing your home or property, and now you can get a free estimate for your project with our new instant quote feature.
Why Spring is the Perfect Time of Year for Soft Washing
As winter melts away, it often leaves behind a layer of dirt, grime, and even mold that needs to be addressed. Soft washing, a gentle method of cleaning surfaces using a combination of low water pressure and environmentally friendly cleaning solution, is the perfect solution.
Not only does it restore the beauty of your property, but it also preserves the integrity of your surfaces. The mild temperatures and increased daylight in the early days of spring provide ideal conditions to properly clean your home exteriors, allowing adequate drying time for optimal results.
What We Can Clean
At Baker SoftWash, we can clean a wide variety of exterior surfaces, including roofs, siding, driveways, walkways, patios, pool decks, wood decks, fences, awnings, windows, gutters, solar panels, and more. No matter what type of property you own or its features, we can help you get it looking its best.
Try Our New Instant Quote Feature this Spring!
We're excited to announce our new instant quote feature, allowing you to get a free estimate for your exterior cleaning project with Baker SoftWash. There's no obligation and no pressure tactics, so you can get an accurate estimate of the cost and time needed for your project without any hassle.
To try our new instant quote feature, visit our website, hit the free estimate button, fill out the form with your general information and service details, and voilà – instant quote! From there, you can schedule a time that fits your schedule.
So don't let the dirt and grime on your property get you down this spring! Soft washing is a safe and effective way to make your home or business look new again, and with our new instant quote feature, getting started is easier than ever.
But don't worry; we might be with the times, but we're not just robots behind a website. You can still call us anytime with questions or concerns. We're your friendly neighborhood soft washing company, always here to help. So what are you waiting for? Get in touch with Baker SoftWash today, and let us help you make your property shine!