We love a good DIY project! There are plenty of simple projects you can take on to transform your home and boost your curb appeal in a few days or less, but cleaning your roof shouldn't be one of them! Not only do you put your safety at risk, but you likely don't have the proper tools and solutions to get the job done right.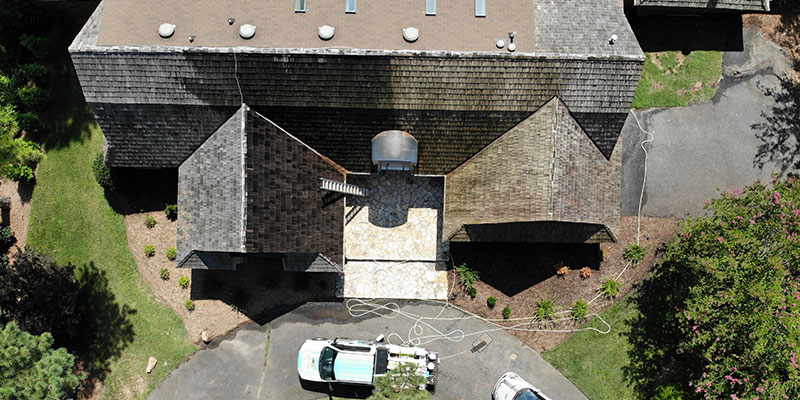 Unfortunately, a quick Google search for 'DIY roof cleaning solutions' will show everything from dish and laundry soap to oregano oil and distilled vinegar. These products might be excellent inside your home, but they DO NOT make good roof cleaning solutions. In fact, using laundry detergent to clean a roof is a terrible idea!
Laundry Detergent Can Break Down Roofing Materials
Laundry detergent is not an herbicide. This is a good thing because none of us should be washing our clothes with herbicides! However, when it comes to cleaning your roof, herbicides are essential because they destroy unwanted vegetation growing on your roof. Moss can lay deep roots into and under your shingles, pushing them out of place and causing leaks. It's important to remove the problem instead of just rinsing it off temporarily.
Using laundry detergent to kill the moss on your roof only causes more problems. Since detergent is a degreaser, it can break down essential components of your roofing shingles and cause erosion. The detergent can strip away the tar, asphalt, and oil protecting your roof, leaving it more exposed to elements like sun, wind, and rain. Therefore, using detergent on your roof can shorten your roof's lifespan, leading to expensive and unnecessary repairs!
The Environmental Impact of Detergent On Your Roof
Lastly, all of that detergent has to go somewhere. Think about rinsing off all of the detergent into your landscaping and water systems around your home … yikes! At Baker SoftWash, our cleansing processes and systems are safe for the environment. The remedies we use are also non-toxic and will not release any hazardous chemicals into the area that surrounds your property. All of our cleaning services are 100% biodegradable, we only use 1/3 the water of pressure washing, and since our cleanings last longer than pressure washing, cleaning isn't needed as often.
Unfortunately, many contractors (even big names in the Mooresville, North Carolina area) use dish soap or laundry detergent to wash houses and roofs. It's your property, and you have the right to know. Ask them what they are using to clean your home. We tell our clients exactly what we use on their property and can supply an SDS sheet to them if requested.
Contact our team today for superior, effective cleaning solutions for residential, commercial, and multi-use properties throughout Mooresville and the Lake Norman area.