Deciding to get your home or business washed is about so much more than boosting curb appeal. Soft washing can help protect the exterior of your home or business by removing and preventing harmful algae and mold from building up. But did you know that you can soft wash more than just your roof or siding? Here's a list of some of our most popular services that extend beyond roofs and siding.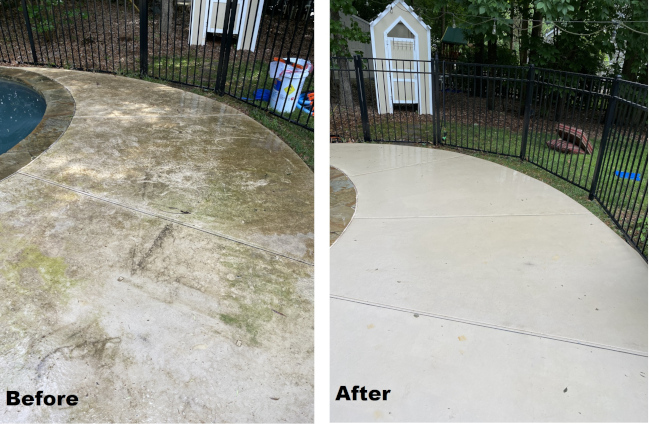 Fences– Whether wood, composite, or vinyl, fences are relatively delicate, and standard pressure washing can only damage their structural integrity and appearance. The power of soft washing lies in that it doesn't just lightly clean the surface of your fence. Instead, fence cleaning services get down to the growth, mold, and mildew responsible for the staining. This leaves you with a perfectly clean fence that you won't have to clean again in the near future. Soft washing results last much, much longer than traditional power washing because we actually get your fence all the way clean without damaging it.
Decks/Patios- Just like fencing, we can soft wash your deck and patio space without any damage. It's easy for outdoor spaces to have mold and algae buildup here in the Mooresville/Lake Norman area. Soft washing can help restore your deck or patio by removing unsightly streaks and debris. If you are thinking about re-staining or painting your deck, give our team a call before you do so we can help you start with a clean surface.
Concrete/Brick- If your brick or concrete surfaces are looking a little dirty, grimy or worse for the wear, then a soft wash appointment can help them look like new! Remember that brick is porous, which means it is NOT waterproof. If you damage brick with high pressure during cleaning, it can absorb more water than it normally does. Over time, damaged brick will decay quicker than it would if kept in good condition. Because our soft wash cleaning services don't blast the dirt and grime off like power washing, your surfaces are protected from damages that occur during power washing.
In case you haven't heard, our slogan is "From The Roof To The Road", which means we're here to help with all of your exterior structures and surfaces. We are proud of our work and the business that we have built since it works to improve your property as well as the environment by using 1/3 of the water of power washing and only water-based, biodegradable cleaners. We are working on keeping our little slice of America clean and would love to tell you more. Our team is here to answer all of your soft washing questions.