The holiday season is all about joy, love, and, of course, the hustle and bustle. The traditions, the gatherings, and the warmth of the season are things we cherish, but some things, like Christmas light installation, are chores many of us could do without..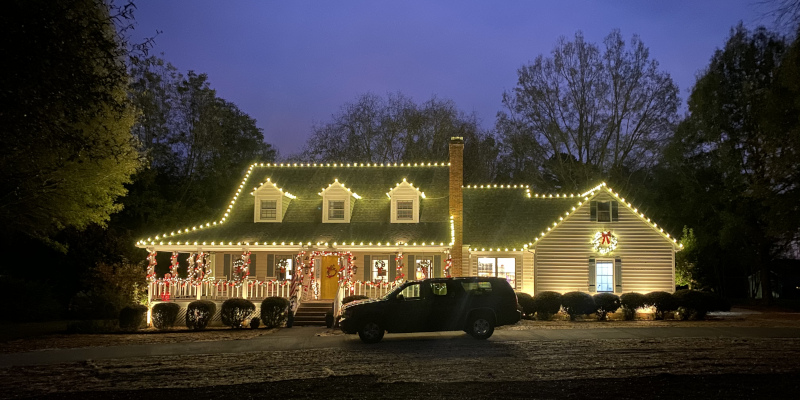 As enchanting as the end result is, the process of Christmas light installation, maintenance, removal, and storage can be quite a task. That's where professional Christmas light installation services come in to make the season truly magical without any of the hassle. Be the envy of the neighborhood without all the effort by letting us provide professional outdoor lighting services in just five easy steps.
Step 1: Design Your Dream Christmas Light Display
The process begins with your unique vision. Our team of experts will assess your property, taking into consideration your personal style and budget. We'll work with you to design the perfect holiday lighting display, whether you're dreaming of a classic, elegant look or a vibrant, whimsical wonderland.
Step 2: Precision Christmas Light Installation
Once you've decided on your design, we'll bring your vision to life! Our team will install professional-grade LED lights. These lights are not just any lights; they are precisely tailored to your home's dimensions. Our skilled technicians ensure that every light strand is custom-cut to fit flawlessly, creating a stunning and polished appearance.
Step 3: Hassle-Free Maintenance
Worried about burnt-out bulbs or flickering lights? Leave the ladder in the shed because we offer the best maintenance service in the Christmas light industry. If you ever encounter issues with your Christmas lights, our team is just a call away. We'll quickly address any concerns, ensuring that your display continues to shine brightly throughout the season.
Step 4: Stress-Free Christmas Light Removal
Once the holidays have passed and it's time to remove your lights, you can skip the hassle of having to take them down. We'll safely remove all lights and decorations from your property. This means more time for you to enjoy the post-holiday relaxation and less time spent on a ladder on your day off.
Step 5: Secure Storage Solutions
Lastly, we offer an all-inclusive leasing package that includes the storage of your lights and decorations. No need to cram them into your attic or garage. We'll take care of it for you and store them in our warehouse until the next festive season rolls around.
The holiday season will be here before you know it! Reach out to our sister company, I Need Lights, today for a FREE Christmas light installation estimate. When you book early, you can pick your installation date and enjoy a discount before the holiday rush.