Get unbelievable results for your home!
Traditional pressure washing can get rid of some surface dirt and grime from the surface of your home. But when you use a traditional pressure washing method, you risk damaging what you're cleaning – making it even more susceptible to the environmental grime down the road. On top of that, after a few months, the grime will come back again because the underlayer of the debris was not removed. If you're ready to move past regular pressure washing and try something that provides better, longer-lasting results, welcome to the world of soft washing.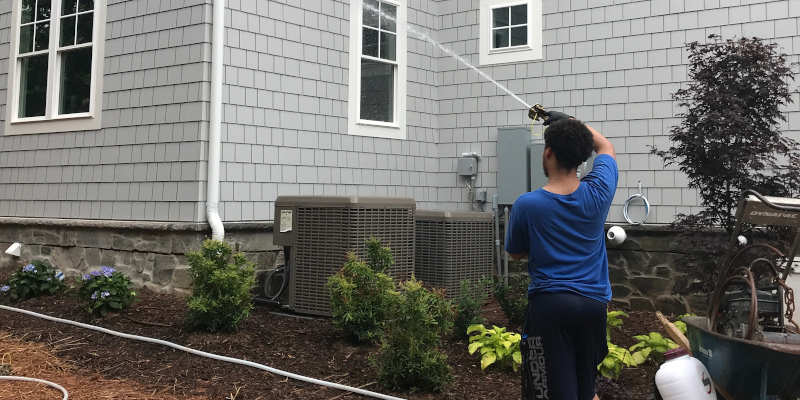 Why is soft washing superior to pressure washing? Here are our top four reasons:
Pressure washing is tough on your home. Comparatively, soft washing doesn't degrade building materials, even after multiple applications.
Instead of only removing the surface layer of the dirt, soft washing removes dirt, debris, and other contaminants completely from your home's surfaces.
Soft washing doesn't damage your home's surfaces and keeps everything in pristine condition.
Pressure washing uses a lot of water, but soft washing doesn't. In fact, soft washing only uses about one-third of the water a pressure washer uses for a standard job.
For our team at Baker SoftWash, there's nothing like getting unbelievable results for our clients in Huntersville, North Carolina with the power of soft washing. But don't take it from us – try it for yourself to get your home's roofing, siding, gutter system, driveway, and other surfaces cleaner than they've ever been.
Revitalizing your property's exterior has never been so effective, sustainable, and easy than with soft washing. We want to tell you all about our signature processes and why they stand out from traditional pressure washing, so give us a call today.
---
At Baker SoftWash, we offer a superior alternative to pressure washing services for customers in Mooresville, Cornelius, Davidson, Huntersville, Charlotte, Troutman, Statesville, Denver, Kannapolis, China Grove, Landis, Concord, and Iredell County, North Carolina.
Similar Services We Offer: