Our soft wash method produces better long-term results than standard pressure washing.
If the exterior of your property has accumulated a lot of dirt or grime, you may be thinking about having them pressure washed to improve their appearance. However, standard pressure washing can actually damage your surfaces, stripping paint, ruining sealant, and pitting hard surfaces like concrete or stone. Because of this, our team at Baker SoftWash recommends our alternative instead—we use soft washing, which involves first treating the surface with specialized cleaning solutions to break down dirt and kill mold and algae, then spraying it with a much gentler water pressure to wash all that grime away.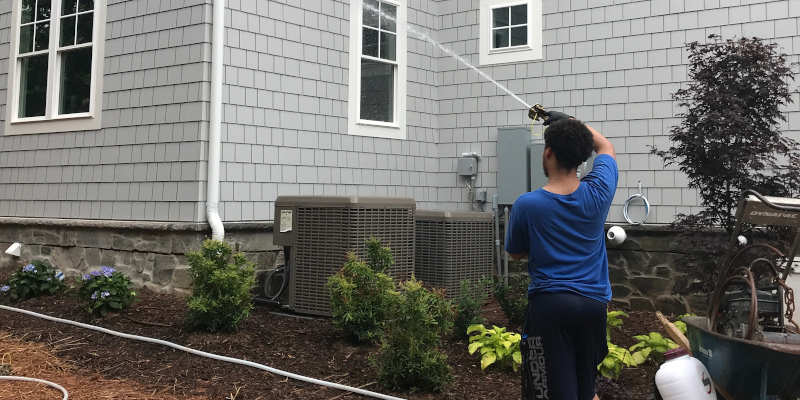 As we mentioned, our soft washing method is preferable to standard pressure washing because it will not damage your surfaces. In addition, our methods will produce better long-term results. Our specially formulated, biodegradable soap is designed to kill algae, mold, and other harmful microorganisms, and will get rid of any algae that is currently present and prevent it from coming back in the future. These microorganisms are a more important concern than dirt alone, as they will eat into your surfaces and damage them if they are not removed promptly.
Our team is proud to serve the Davidson, North Carolina community, and we want to help you take the best possible care of your property. If you are looking for a better alternative to pressure washing, one that won't damage your surfaces and will produce superior long-term results, we encourage you to give us a call today to schedule a soft washing session.
Your Questions About Our Alternative to Pressure Washing Answered
Soft washing is a beneficial alternative to pressure washing for many reasons. We've answered a few questions below about why that is, as well as a few other general questions about the soft washing process.
How is soft washing different than pressure washing?
Pressure washing uses intense force to remove dirt and grime buildup from exterior surfaces. In comparison, soft washing uses a proprietary system of soaps and solutions that eliminate contaminants at their source.
Why should I choose soft washing over pressure washing?
Because soft washing doesn't rely on pressure to clean your home surfaces, it won't degrade or damage your home's windows, siding, patio, pool deck, etc. It also clears away contaminants responsible for staining your home's surfaces at their source for an even better clean.
Do the results of soft washing last longer?
Yes! Our clients find that the results of soft washing last anywhere from four to six times longer than standard pressure washing.
Can soft washing get rid of the staining on my roof?
If your home's roof is stained by mold and algae growth, soft washing can take care of it. We also offer a five-year warranty on our roof cleaning services.
How do I set up an appointment?
To set up a time for us to come and soft wash your home, contact us directly. One of the members of our soft washing team will set up your appointment and provide you with more information.
---
At Baker SoftWash, we offer a superior alternative to pressure washing services for customers in Mooresville, Cornelius, Davidson, Huntersville, Charlotte, Troutman, Statesville, Denver, Kannapolis, China Grove, Landis, Concord, and Iredell County, North Carolina.
Similar Services We Offer: